What is ERAN?
---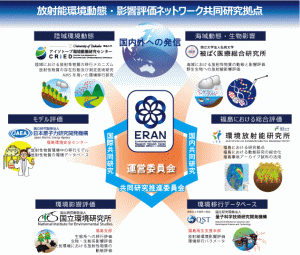 ERAN (Environmental Radioactivity Research Network Center) has been recognized by the Ministry of Education, Culture, Sports, Science and Technology (MEXT) as a Joint Usage / Research Center since 2019.
ERAN consists of six organizations: CRiED of Univ. of Tsukuba, IER of Fukushima Univ., and IREM of Hirosaki Univ. as network centers, and JAEA, QST, and NIES as cooperative network centers.
We are convinced that the results of the joint research and international efforts will be critical to the recovery and possible future events.
Pick Up Topic
---
Radionuclides from the Fukushima Daiichi Nuclear Power Plant in terrestrial systems
Nat Rev Earth Environ (2020)
.
Onda, Y., Taniguchi, K., Yoshimura, K., Kato, H., Takahashi, J., Wakiyama, Y., Coppin, F., Smith, H.
---
In this study, more than 210 research papers on terrestrial environmental monitoring in Fukushima were comprehensively reviewed to elucidate the migration of radioactive cesium-137 (137Cs) over terrestrial areas, to reveal the actual situation of terrestrial contamination and the overall picture of environmental recovery based on the results. A significant decrease in the concentration of 137Cs on the ground was found to have a causal effect on the reduction of 137Cs concentrations in rivers, although there is still an abundance of 137Cs on terrestrial areas.
Hot Topics
---
News