What is ERAN?
---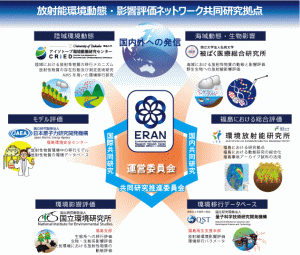 ERAN (Environmental Radioactivity Research Network Center) has been recognized by the Ministry of Education, Culture, Sports, Science and Technology (MEXT) as a Joint Usage / Research Center since 2019.
ERAN consists of six organizations: CRiED of Univ. of Tsukuba, IER of Fukushima Univ., and IREM of Hirosaki Univ. as network centers, and JAEA, QST, and NIES as cooperative network centers.
We are convinced that the results of the joint research and international efforts will be critical to the recovery and possible future events.
Hot Topics
---
Terrestrial and River
Forest
Air
Ocean
Chemistry
Animal
News