Research Organization
[Upadated on Oct. 12, 2017]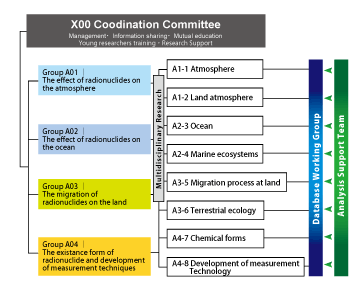 We broadly have four parts in this research area (A01-04) and will deepen each study and offer feedback to each other through collaboration.
We will launch a cross-sectional team, which consists of related but different study fields with geoenvironmental researchers as a core, to understand current contamination status and to construct a model for transfer and diffusion processes of radionuclides. Scientific insights and foundation for modeling which require long-term measures will be established through various interdisciplinary studies.
With this interdisciplinary study on environmental transfer of radionuclides from the Fukushima Daiichi NPP Accident, we aim at strengthening academic levels of geoenvironmental sciences of our country, which in turn will make a positive contribution to the society.

Head Investigator
Yuichi ONDA
: A03-5 (University of Tsukuba・Hydrogeomorphology)

Principal Investigators
Teruyuki NAKAJIMA
: A01-1 (Japan Aerospace Exploration Agency・Meteorology)

Yasuhito IGARASHI
: A01-2 (Meteorological Research Institute・Atmospheric aerosol)

Masatoshi YAMADA
: A02-3 (Hirosaki University・Oceanography)

Jota KANDA
: A02-4 (Tokyo University of Marine Science and Technology・Marine biology)

Chisato TAKENAKA
: A03-6 (Nagoya UNiversity・Forest environment resources)

Masayoshi YAMAMOTO
: A04-7 (Kanazawa University・Environmental radioactivity)

Atsushi SHINOHARA
: A04-8 & Analysis Team leader (Osaka University・Radiochemistry)

Jun ASANUMA
: Database Working Group leader,A03-5 Co-investigator (University of Tsukuba・Surface Hydrology)

Kazuyuki KITA
: Database Working Group,A01-2 Co-investigator (Ibaraki University・Atmospheric Environmental Science)


―Research Topic(1) Understanding of atmospheric transport modeling of fallout radionuclides and migration processes

Principal Investigator
Teruyuki NAKAJIMA: Japan Aerospace Exploration Agency・Meteorology

Co-Investigators
Masayuki TAKIGAWA: Japan Agency for Marine-Earth Science and Technology・Meteorology・Atmospheric Chemistry
Hiroaki KONDO: Advanced Industrial Science and Technology ・Meteorology・Atmospheric Diffusion
Mizuo KAJINO: Meteorological Research Institute・Atmospheric Science
Hiromi YAMAZAWA: Nagoya University・Radiation and Energy Environmental Safety Engineering
Daisuke GOTO: National Institute for Environmental Studies・Atmospheric Science

Cooperation Researchers
Hisashi NAKAMURA: University of Tokyo・Atmospheric General Circulation
Toshihiko TAKEMURA: Kyushu University・Meteorology・Atmospheric Environment
Yu MORINO: National Institute for Environmental Studies・Atmospheric Environmental Science
Hiroshi HAYAMI: Central Research Institute of Electric Power Industry (CRIEPI)・Atmospheric Environmental Science
Yasutaka WAKAZUKI: Ibaraki University・Meteorology
Keiya YUMIMOTO: Meteorological Research Institute (MRI)・Enviromental and Meteorology Studies

Cooperator
Haruo TSURUTA: Remote Sensing Technology Center of Japan


―Research Topic(2) Understanding of atmospheric deposition, diffusion processes and land atmosphere interaction of radioactive materials

Principal Investigator
Yasuhito IGARASHI: Meteorological Research Institute・Atmospheric Aerosol

Co-Investigators
Kazuyuki KITA: Ibaraki University・Atmospheric Environment
Naohiro YOSHIDA: Tokyo Institute of Technology・Earth and Planetary Science
Masahide ISHITSUKA: Kagawa University・Hydrology Sceince
Hiroshi OKOCHI: Waseda University・Environmental Chemistry

Cooperation Researchers
Hiroto KAWASHIMA: Akita Prefectural University・Environmental Science
Yasumichi TANAKA: Meteorological Research Institute・Atmospheric Chemistry Modeling
Tsuyoshi SEKIYAMA: Meteorological Research Institute・Atmospheric Chemistry Modeling
Takashi MAKI: Meteorological Research Institute・Atmospheric Chemistry Modeling
Keita YAMADA: Tokyo Institute of Technology・Isotope Analysis
Yuji ZAIZEN: Meteorological Research Institute・Environmental Analysis
Koji ADACHI: Meteorological Research Institute・Particle Analysis

Cooperators
Izumi NAKAI: Tokyo University of Science・Analytical Chemistry
Yuko HATANO: University of Tsukuba・Atomic Mechanics
Yoshinari ABE: Tokyo University of Science・Analytical Chemistry
Yutaka YAMADA: RIKEN・Engineering
Kohei NISHIGUCHI: J-Science Lab Co.,Ltd.・Analytical chemistry
Hiroko OGATA: SHIBATA SCIENTIFIC TECHNOLOGY LTD.・Environmental Impact Assessment
Chisato YOSHIKAWA: JAMSTEC・Material Cycle Modeling
Tomoo AOYAMA: Edogawa University・Environmental Radioactivity
Sakae TOYODA: Tokyo Institute of Technology・ Atmospheric chemistry
Shohei HATTORI: Tokyo Institute of Technology・ Atmospheric chemistry
Shigeki MURAKAMI:Forestry and Forest Products Research Institute・Forest Hydrology
Mizuo KAJINO: Meteorological Research Institute・Atmospheric Science
Nobuo NIIMURA: Ibaraki University
Akira WATANABE: Fukushima University
Naoyuki OSADA: Okayama University・Radiochemistry
Masao MIKAMI: Japan Meteorological Business Support Center・Meteorology
Yukihiko SATO: Japan Atomic Energy Agency
Teruya MAKI: Kanazawa University


―Research Topic(3) Understanding the distribution of radioactive materials in sea and seafloor sediment

Principal Investigator
Masatoshi YAMADA: Hirosaki University・Oceanography

Co-Investigators
Makio HONDA: JAMSTEC・Marine Biochemical
Yuichiro KUMAMOTO: JAMSTEC・Marine Biochemical
Hisaki NAGAI: Nihon University・Radiochemistry
J.Zheng: National Institute of Radiological Sciences・Isotope Chemical Oceanography
Yoshihisa KATO: University of Tokai・Chemical Oceanography
Daisuke TSUMUNE: Central Research Institute of Electric Power Industry・Oceanography
Yasunori HAMAJIMA: Kanazawa University・Nuclear Geochemistry・Radiometry
Hirofumi TAZOE: Hirosaki University・Chemical Oceanography
Michio AOYAMA: Fukushima University・Institute of Environmental Radioactivity

Coorperation Researchers
Mitsuo UEMATSU: University of Tokyo・Atmosphere and Ocean Environmental Chemistry
Hajime KAWAKAMI: JAMSTEC・Chemical Oceanography
Ken IKEHARA: National Institute of Advanced Industrial Science and Technology・Sedimentology・Submarine Geology
Tomohisa IRINO: Hokkaido University・Paleohydrology・Inorganic Geochemistry
Naoto TAKAHATA: University of Tokyo・Chemical Oceanography
Yukio MASUMOTO: JAMSTEC・Physical Oceanography・Climate Dynamics
Atsuhiko ISOBE: Ehime University・Physical Oceanography
Shinichiro KIDA: Research Institute for Applied Mechanics, Kyushu University, Physical Oceanography・Physical Oceanography
Takaki TSUBONO: Central Research Institute of Electric Power Industry・Environmental and Ocean Engineering
Kazuhiro MISUMI: Central Research Institute of Electric Power Industry・Environmental Biogeochemical Cycle, Modeling
Yayoi INOMATA: Kanazawa University・Earth and Planetary Science・Atomosoheric Environment
Hideki KAERIYAMA: Fisheries Research Agency・Environmental Science, Water Science, Aquaculture

Cooperators
Masashi KUSAKABE:JAMSTEC・Environmental Radiation
Pavel POVINEC: Comenius University・Marine Geochemistry
Ken BUESSELLER: WHOI・Marine Geochemistry
M. HULT: EU JRC-IRMM・Marine Geochemistry
Hartmut NIES: IAEA MEL・Marine Geochemistry
Yang Guosheng: Hirosaki University
Toshiya NAKANO: Global Environment and Marine Department, Japan Meteorological Agency


―Research Topic(4) Understanding the migration and concentration of radioactive materials in marine ecosystems

Principal Investigator
Jota KANDA: Tokyo University of Marine Science and Technology・Chemical Oceanography

Co-Investigators
Minoru KITAMURA: JAMSTEC・Planktonology
Jun NISHIKAWA: University of Tokyo・Planktonology
Tatsuo AONO: National Institute of Radiological Sciences・Analytical Chemistry
Atsushi YAMAGUCHI: Hokkaido University・Planktonology
Kotaro TSUCHIYA: Tokyo University of Marine Science and Technology・Invertebrate Zoology
Yutaka WATANABE: Hokkaido University・Chemical Oceanography
Shogo TAKAGI: Hokkaido University・Marine Ecology
Akira NODA: Tokyo University of Marine Science and Technology・Marine Science
Toshifumi HAYASHI: Tokyo University of Marine Science and Technology・Marine Science
Yutaka TATEDA: Central Research Institute of Electric Power Industry・Marine Radioecology・Marine Biology

Cooperation Researchers
Shigeharu MORIYA: RIKEN・Evolutionary Biology
Takuya KOBAYASHI: Central Research Institute of Electric Power Industry・Biological Environment
Takeshi YOSHIMURA: School of Fisheries Sciences, Hokkaido University, Marine Bioresource and Environmental Science・Atmospheric and Marine Environment

Cooperators
Takashi ISHIMARU: Tokyo University of Marine Science and Technology・Biological Oceanography
Satoshi IGARASHI: Fukushima Prefecture Suisan Shikenjo・Benthos
Jiro SUGA: Nihon Sensui Kagaku Kyokai・Diving
Yukari ITO: Tokyo University of Marine Science and Technology




―Research Topic(5) Understanding the migration process of radionuclides associated with water and sediment movement

Principal Investigator
Yuichi ONDA: University of Tsukuba・Hydrogeomorphology

Co-Investigator
Takehiko FUKUSHIMA: Ibaraki Kasumigaura Eanvironmental Science Center・Water Environment
Maki TSUJIMURA: Univesity of Tsukuba・Hydrology
Keisuke SUEKI: Univesity of Tsukuba・Radiochemistry
Kimikazu SASA: Univesity of Tsukuba・Accelerator Mass Spectrometry
Yasuyuki SHIMIZU: Hokkaido University・River Engineering
Yosuke YAMASHIKI: Kyoto University・Water Resources Engineering
Akihiko KONDOH: Chiba University・Groundwater Hydrology
Jun ASANUMA: University of Tsukuba・Surface Hydrology
Kenji NANBA: Fukushima University・Environmental Microbiology
Yoshifumi WAKIYAMA: Fukushima University・Hydrogeomorphology

Cooperation Researchers
Tomohiro SEKIGUCHI: University of Tsukuba
Takayuki TAKAHASHI: Fukushima University
Olivier Evarard: LSCE, France

Cooperators
Valentin GOLOSOV: Moscow University, Russia ・Geomorphology
Laurent Garcia-Sanchez: IRSN


―Research Topic(6) Understanding the radionuclides circulation process in terrestrial ecosystems

Principal Investigator
Chisato TAKENAKA: Nagoya University・Forest environment resources

Co-Investigators
Naoki HIJII: Nagoya University・Forest Protection
Michihiro SHIBATA: Nagoya University・Applied Nuclear Physics
Nobuhiro KANEKO: Yokohama National University・Soil Ecology
Tatsuhiro OKUBO: Utsunomiya University・Forest Ecology
Jun FURUKAWA: University of Tsukuba・Plant Physiology
Hitoshi SEKIMOTO: Utsunomiya University・Plant Nutrition

Cooperation Researchers
Masayoshi MAESHIMA: Nagoya University・Biological Chemistry
Tetsuro MIMURA: Kobe University・Plant Cell Biology
Toru FUJIWARA: University of Tokyo・Plant Nutrition
Hiroo FUKUDA: University of Tokyo・Plant Physiology
Taizo NAKAMORI: Yokohama National University・Radiation/Chemical Substance Influence Science
Hiroshi KAWAI: Kobe University・Basic Biology
Daisuke KOBAYASHI: Fukushima Medical University・Applied Biochemistry
Masaaki KOGANEZAWA: Utsunomiya University・Wildlife Management

Cooperators
Mineaki AIZAWA: Utsunomiya University・Forest Botany
Kazuya IIZUKA: Utsunomiya University・Forest Resource Management




―Research Topic(7) Development of microanalysis technology and chemical form of radioactive materials with migration
Principal Investigator
Masayoshi YAMAMOTO: Kanazawa University・Radiochemistry・Nuclear Geochemistry
Co-Investigators
Seiya NAGAO: Kanazawa University・Environmental Radiation
Mitsuru EBIHARA: Tokyo Metropolitan University・Radiochemistry・Analytical Chemistry
Kazuya TANAKA: Japan Atomic Energy Agency
Aya SAKAGUCHI: University of Tsukuba・Environmental Radiation

Yoshio TAKAHASHI:University of Tokyo・Environmental Geochemistry
Cooperation Researchers
Kiyoshi SHIZUMA: Hiroshima University・RAdiation Physics
Hiroyuki MATSUZAKI: University of Tokyo・Accelerator Mass Spectrometry・Isotope Geochemistry
Satoru ENDO: Hiroshima University・Energy Engineering
Keisuke FUKUSHI: Kanazawa University・Environmental Mineralogy・Geochemistry
Cooperator
Peter STEIER: University of Vienna ・ Nuclear Physics
―Research Topic(8) Development of technology and radiation measurement in various chemical forms
Principal Investigator
Atsushi SHINOHARA: Osaka University・Radiochemistry
Co-Investigatiors
Takashi SAITO: Shokei Gakuin University・Goechemistry
Akihiko YOKOYAMA: Kanazawa University・Radiochemistry
Masaki UESUGI: Kanazawa University・Environmental Radiation
Yasuji OURA: Tokyo Metropolitan University・Nuclear Cosmo Chemistry
Yuichi OKI: Kyoto University・
Hisakazu MURAMATSU: Shinshu University・Radiochemistry
Tsutomu OHTSUKI: Tohoku University・Radiochemistry
Sadao KOJIMA: Aichi Medical University・Inorganic Chemistry
Takashi YOSHIMURA: Osaka University・Inorganic Chemistry
Kazuhiko NINOMIYA: Osaka University・Phisycal Chemistry
Cooperation Researchers
Takashi NAKANISHI: Kanazawa University・Environmental Radioactivity
Naruto TAKAHASHI: Osaka University・Radiochemistry
Keisuke SUEKI: University of Tsukuba・Radiochemistry
Takaharu OTSUKA: University of Tokyo・Nuclear Physics
Koichi TAKAMIYA: Kyoto University・Radiochemistry
Zinichi KARUBE:Ibaraki University・Environmental Chemistry
Yukiko OKADA:Tokyo City University・Environmental Radiation
Masaomi TAKAHASHI: Osaka University・Geochemistry
Cooperators
Yuya KOIKE: Meiji University・Geochemistry
Yuko SAITO: Aoyamagakuin University・Radiochemistry
Yoshiaki YAMAGUCHI: Osaka University・Environmental Radioactivity
Hidetoshi KIKUNAGA: Tohoku University・Nuclear Chemistry
Chihiro ICHIHARA: Aichi Medical University・Nuclear medicine

B01: Estimation of deposition process of radionuclides based on the investigation, analysis and clarification of chemical status at the time of release and impact assessment of transfer [A01, A04] (Chief: Dr. Igarashi)

B02: Clarification of circulation process of radionuclides in forest environment and modeling of the process [A01, A03, A04] (Chief: Dr. Takenaka)

B03: Clarification of transfer process of radionuclides from terrestrial environment to marine environment through river network [A02, A03, A04] (Chief: Dr. Onda)

B04: Calculation of locational radiation exposure based on radionuclide behavior and transfer in the environment [A01, A02, A03, A04] (Chief: Dr. Tsuruta)


―Research Recruited From The Public

The second recruitment from 2015 to 2016
B01 Akiyo YATAGAI: Hirosaki University
  Izumi NAKAI: Tokyo University of Science

B02 Yoschenko Vasyl: Fukushima University
  Hiroaki KATO: University of Tsukuba
  Junko TAKAHASHI: University of Tsukuba
  Kazuhiko FUKUSHIMA:Nagoya University

B03 Yukio KOIBUCHI: University of Tokyo
  Chihiro YOSHIMURA: Tokyo Institute of Technology
  Jing ZHANG: University of Toyama
  Yusuke UCHIYAMA: Kobe University

B04 Yoshitaka ITOW: Nagoya University


The first recruitment from 2013 to 2014
A01 Chisato YOSHIKAWA: JAMSTEC
A01 Izumi NAKAI: Tokyo University of Science

A02 Jing ZHANG: University of Toyama
A02 Yusuke UCHIYAMA: Kobe University
A02 Yayoi INOMATA: Asia Center for AirPollution Research

A03 Tsuyoshi KINOUCHI: Tokyo Institute of Technology
A03 Yukio KOIBUCHI: University of Tokyo
A03 Keisuke FUKUSHI: Kanazawa University

A03 Chisato YOSHIMURA: Tokyo Institute of Technology
A03 Kazuhiko FUKUSHIMA: Nagoya University
A03 Yasuyuki TAIRA: Nagasaki University (Until March, 2014)